IMPORTANT ANNOUNCEMENT!
Due to unforeseen difficulties in hiring qualified Coast Guard Captains, we are no longer accepting direct booking for individual tours. We will only be booking group tours which begin at $500 for up to six passengers. Please visit "Private Charters" for pricing. Thanks

Book a Winetastic Cayuga Lake Boat Tour
Ready to experience all Cayuga Lake has to offer? Departing from Interlaken or Aurora – sit back and relax as you soak in lakefront views on a leisurely Cayuga Lake boat tour, as you visit award-winning wineries along both shorelines. Find a bottle (or two) you enjoy, soak in the summer sun, and stop for a bite from a local eatery that pairs well with your newest bottle of Chardonnay.
Your tour price includes one complimentary wine tasting, a cooler with iced bottled water and a discount coupon for wine purchases. Tours last 5-6 hours. Lunch is from a menu and is not included in the ticket price.
Book Now – $119
*Children 12 & under not allowed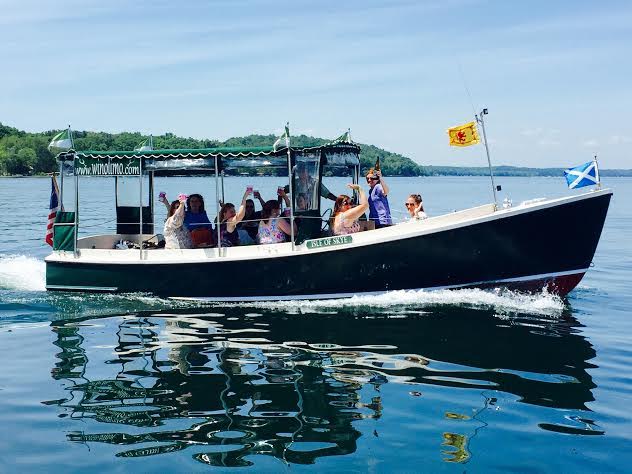 Isle of Skye
II Special
Panga
Limo
Frequently Asked Questions
Which wineries do you visit?
Most typically, we visit Long Point Winery & Thirsty Owl Winery. Weather and logistics can have us visit Lakeshore, Goose Watch, or Varick Winery.
What happens during inclement weather?
Both of our boats will keep you safe, dry and warm. We will cancel for high wind, (docking issues) lightning and heavy rain (transportation from the dock to the winery)
What is the best day to tour?
Weekdays are best as weekends can be crowded at the wineries & docks.
How do I select my departure point?
Interlaken is the best for Ithaca, Watkins Glen, Geneva, Seneca Falls & all points west. Aurora is best for Auburn, Syracuse and all points east. Feel free to call for advice.
Why do I need to call the Captain on the morning of the tour?
Weather and logistics can alter the schedule by a small amount.
Where is lunch and is it included in the price?
The daily tour stops for lunch (not included in price) at Cayuga Lakes' most popular winery, Thirsty Owl Bistro. You order off their scrumptious menu while sampling their wines and enjoying the view.
Can we tip our Captain?
If you feel he has done a good job. On a narrated tour a suggested tip for the Captain is $10 per person if he has provided you with information and service.
Are there bathroom facilities on the boat?
No, both departure points have facilities available and you are never on the boat for more than 25 minutes between wineries.
Can I bring a cooler?
No, however alcohol consumption IS permitted on the tour. As a courtesy to our winery partners, we recommend you purchase products for consumption during the tour. The first stop is 11:15 AM. Also, a large cooler with ice & bottled water is included on all tours.